Meerut's scissors manufacturing is a 350-year-old cottage industry and locals say that a resident blacksmith by the name of Akhunji is said to have combined two swords to cut leather in 1645 during the Mughal period creating the first pair of scissors in India.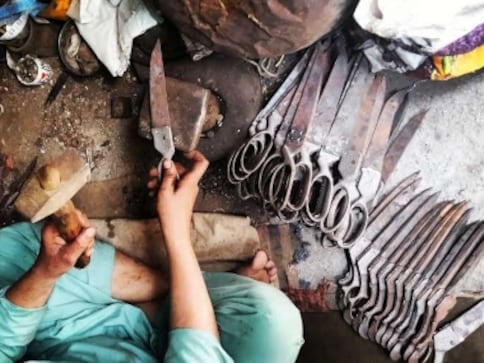 Scissors manufacturing is essentially a family business here in Meerut catering to both domestic and overseas market. Scissors manufacturers collected historic evidence for over two years and provided the Geographical Indication Tag Committee (GI) with printed packing material, copy of Gazette and other evidences to support their claim that the scissors first originated here in the country and represented their case in front of the GI committee that examines documents before being declared as the country's first GI scissors in 2013.
It is indeed a great accomplishment and a matter of pride for the city and the state with very few people who are aware of the Meerut scissors's international status. Kainchi Bazaar houses close to 600 units and employs approximately 70,000 craftsmen with every pair of scissors passing through almost 22 pairs of hands and each person being an expert in a different process that includes cutting, sharpening, welding, polishing and more.
The unique characteristics of Meerut's scissors are strength, sharpness, sturdiness, smoothness and durability and the craftsmen attribute this to their meticulous handwork. The manual labour coupled with attention to detail makes the scale and quality of Meerut's scissors far superior to the ordinary machine-made scissors. It is this that has made Meerut's scissors popular with tailors and barbers across the country who are still using this precision tool for their handiwork.
There are a variety of Meerut scissors with each type suited to a purpose with specific blades, weights and lengths, either tapered or blunt-tipped, matched to its use. The blades are made of carbon steel that is sourced from scrap salvaged from railway rolling stock and automobile industry of junk buses, cars and trucks.
A noteworthy specialty of these scissors is unlike most other scissors, these scissors can be repaired and reused many times. A popular idiom "Dada le, potaa barte" (bought by the grandfather, and still used by grandson") floats in Meerut and stands testimony to its innovation, quality and durability.
Written by Lakshmi Subramanian
* Photos are only symbolic (Taken from public domain/internet and any copyright infringement is unintentional and regrettable)