A famous poet Akbar Allahabad had once remarked that the guava of Allahabad will be given its true place for its sweetness in the land of God and sixteen years later, this delightful Allahabad Surkha Guava was given the Geographical Indication Tag (GI) in 2007-08 for its sweet smell and irresistible taste.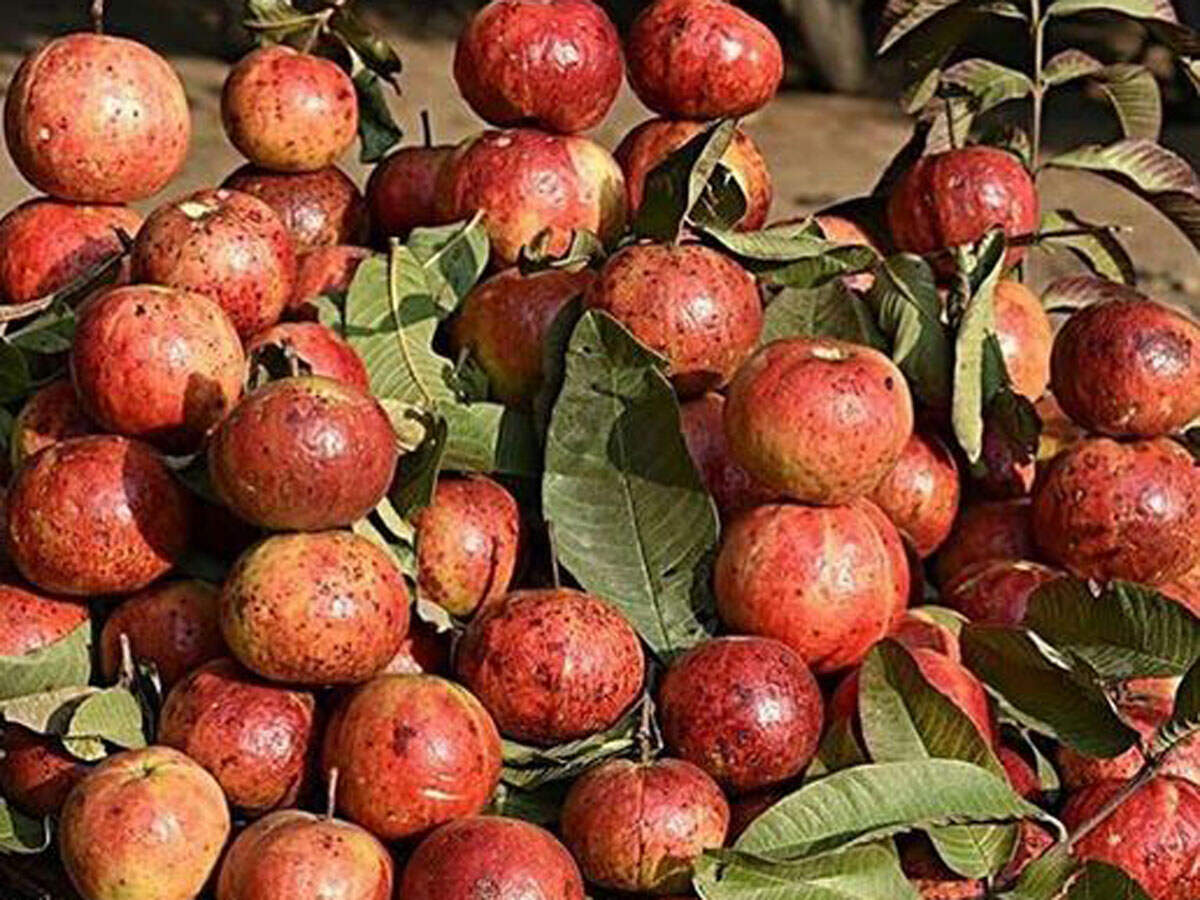 "Allahabad sebiya" or "Allahabad surkha" as it is popularly known is an apple-shaped guava that is unique and different as compared to guavas grown in other parts of India. This has a juicy succulent deep pink colour inside instead of the typical white colour and an apple-red exterior and hence, the name "surkha" (meaning red).
The day starts by 5 a.m for local vendors who head to their orchards to pluck the fruits and then bring them to the market. These guavas are packed in bags of vibrant colours and designs that add to the energy and smell of the market. Brisk business is made and within an hour the guavas are sold off to happy customers.
The heady scent of this unrivalled flavoured guava is such that people forget about buying tea and water as soon as the train stops at Allahabad Junction and instead run towards the stalls only to lose themselves in the heavenly taste of the Allahabad guavas. Most vendors tempt the tired travellers with the fragrance of Allahabad guavas in their baskets while travelling from one station to another. It is very common for people to send guavas as festive gifts to their acquaintances and relatives in winter, which on many occasions is heavier than sweets.
One of the reasons for the Allahabad guava to be so delicious is the soil in which it is grown in the Kaushambi district. Guava is grown on an area of ​​about 300 hectares in Doaba in Kaushambi district of undivided Allahabad. Here Muratganj and Chail block have been declared by the government as a fruit board. These two blocks alone account for 75 per cent of the horticulture occurring across the district. About 50 tonnes of fruits are sent to the states of Bihar, Jharkhand, West Bengal and others every day during the season.
The craze for Allahabad guava remains unaltered over the years even with the recent name change to Prayagraj. In addition to the surkha, Allahabad guava also has its own identity in the other varieties of safeda, narma and patta.
Written by Lakshmi Subramanian
* Photos are only symbolic (Taken from public domain/internet and any copyright infringement is unintentional and regrettable)